Safety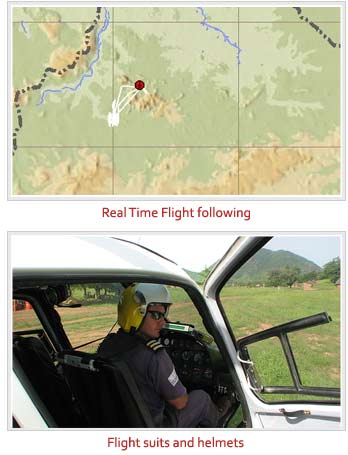 Wild Dog Helicopters only operates the Eurocopter AS350 series helicopters. This turbine powered helicopter has a proven track record and is ideal for operating in remote areas.
In order to enhance the safety and efficiency of our operations, all aircraft have the following additional items fitted:
Satellite based flight following - the aircraft reports its position, speed and heading every 8 minutes. Web access enables real time plotting of the aircraft's position
Both portable and fixed emergency locator beacons
8 man day survival pack
Comprehensive first aid and malaria kit
RBGAN web access and Iridium portable phones
A risk analysis is undertaken before most projects and regular safety meetings are conducted in the field
Helmets and flight suits are mandatory for field operations
All maintenance is outsourced to TRIO Aviation, a South African maintenance organization that specializes in Eurocopter products
Wild Dog Helicopters is an associate member of IAGSA and has successfully passed audits by Hart Aviation.
The single engine AS 350 Ecureuil is renowned for its high performance, its safety and its reduced operating costs. The single-engine AS 350B2, powered with a Turbomeca Arriel 1D1 engine, has a proven track record. Its flexibility and low acquisition cost has made it a very sought-after helicopter to perform a wide range of missions (passenger transport, aerial work, fire fighting).